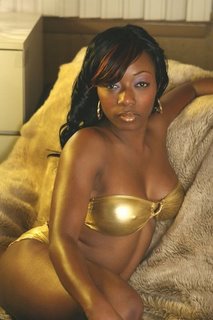 Jackie Rose AKA Exotic Trini Beauty is a delicous looking model from New York City. The first time I saw this model I was hooked and had to see more! What I like about Jackie is her body, her Chocolate skin and her beautiful lips. She is a lovely young lady from Trinidad who is proud of her heritage, and wants to represent it well. Check out this mesmerizing model and see what I am talking about!First off, where are you from and what city, town, or state are you representing?
I am representing Hollis, Queens....NYC.....Home of the kings of RAP.Run DMC! I also represent for Trinidada and tobago because thats my roots
.
Why did you want to become a model?
I always wanted to be a model because I did my first fashion show when I was 5 and i fell in love with it. After seeing other black models such as Naomi and Tyra and normal sized women like Melyssa Ford, I knew there was a place in the fashion world for me.
What do you bring to the modeling field or game?
Well, first of all, I wanna bring my west indian culture. Put Trinidad on the map once and for all, as well as my exotic features. I also wanna do it for all the single working moms.
What do you like to do in your free time?
Free time? Whats that! LOL, to be honest, working my full-time job, being the mom to a 5 year old and doing the modeling thing...I dont have much free time. but when i do have a moment, I like to go to eat, go to the movies, go to a lounge and have a few drinks. and of course...shop.

I notice in your group you like to discuss various things. What is your favorite topic of discussion?
The debate on the issue on what actions actually are considered to be cheating and with who. I like to talk about real things, you know. Especially being that my group is 90 % men. Its a good way to get inside the males mind!
Where is your favorite vacation spot?
I would have to say I loved Cancun, but had the most fun in Hedonism 3 in Ocho Rios Jamaica.
I'm sure the fellas will want to know-are you single or taken?
Right now, I am single and I must say , loving it! LOL, however, if I meet someone nice, I wont be on some liberated woman stuff, I will see what happens. Im game for whatever right now.
What kind of man would you prefer-button down Wall Street professional or a hardcore thug?
To be quite honest, I need a man wit a little of both, or a man that can switch it up. because when you are in your 30's and u dont own a suit or a pair of shoes somethings wrong................but then again every woman wants a man with a little hardcore in em, u heard what Foxy said....."you could leave your Timerlands on"!
Another question Im sure the fellas will want to know, what are you most likely to wear to the beach? To bed? To the club?
The beach I am wearing the tiniest bikini I can find with some linen shorts or a sarong, to bed, wife beater panties, sometimes non, cause you have to let it breathe sometimes, to the club, i mainly wear a nice pair of fitted jeans, and the lowest cut shirt you can find! Cleavage is character! LOL
What is your most defining feature?
I would have to say my lips and my eyes as well as my cheekbones.
When you model, what settings do you like to do the most?
I like outdoor settings, nature
In taking photos, what are you most comfortable in?
The less I wear the more comfy I am, sounds weird, but true. I love lingerie, tiny shorts, bikini tops whatever makes me feel super sexy.
If you had a choice, what magazine would you be on the cover of?
I would do Playboy or KING
If you had a choice of videos, which one would you be in? An R&B or a salsa/reggeaton banger?
R&B
What is your favorite part about being a model?
Being pretty, being sexy and the opportunity to work with different people.
What's the best advice ever given to you?
Be cautious and be patient
What are your goals in terms of being a model?
I would like to go as far I can...skies the limit. I wanna even do some acting as well.
I'm glad that I got a chance to catch up with you, so for my last question, I want you to sum up your style and yourself with one word
.
The one word that describes me is EXOTIC. from my dark skin to my slanted eyes..................to my choice of wardrobe.
Check Jackie out on
Modelplace
, her Yahoo Group
and
Myspace
.Jackie Rose's favoritesColor
Red
Type of flower
Calla lily
Type of car
(my car)
Lexus GS300
Musician
Jamie foxx
Brand of jeans
joes jeans
Brand of lingerie
Victorias secret
Movie
The Godfather
Type of food
Italian
Mixed drink
Vodka, sprite with a splash of cranberry
Sports Team
Mets
Day of the week
Friday, last day of work
Actor or Actress
Robert Dinero
Rapper
LL cool J
Book
Black like me
Free time activity
Playing with my son
Perfume
Cinema by Yves Saint Laurent
Celebrity
Oprah Winfrey
Flavor of Ice Cream
Cookies and cream